Who Are We?
Our clients represent organizations of all sizes across all sectors and include members of the International Fortune 500 and the Canadian Financial Post 100, in such sectors as: major cities, education, energy, engineering, financial services, forest products, governments,
healthcare, mining, NGO's, research & development. technology, transportation and utilities.

We deliver outstanding outcomes to the private sector, all levels of government (and their agencies), NGOs, large associations and not-for profit organizations. Clients include such groups as: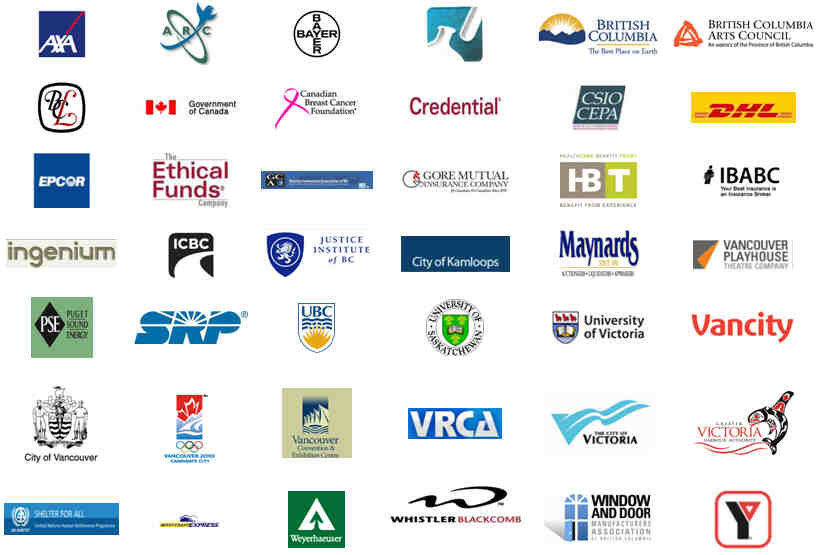 Our clients say the following:
Our success to date relates to delivering results and extremely high levels of client satisfaction. Clients publicly say the following about our work:
We have worked with Rewerx on several occasions. Bruce's commitment to our shared success is tangible and he is a major force behind our achievements. We look forward to this continuing relationship. – VP, Canada's largest Credit Union

I have worked with ReWerx in both corporate and non-profit companies. He has been instrumental in strategic planning, developing alignment and accountabilities to the strategy.

Bruce is very effective dealing with people that have strong, differing views.

I have always been happy with his work and approach and would not hesitate to recommend Bruce.

– Senior VP, Crown Corporation

I have worked closely with Bruce and Rewerx since 2002 and he has consistently delivered top notch results and advice both in our partnership with external stakeholders, and in improving our internal processes.

Bruce has helped us successfully navigate challenging negotiations and always explores and reminds us of our common interests and goals.

– Director, Crown Corporation

Our group has used Bruce and Rewerx a number of times to help with strategic planning as well as a survey of members. Bruce is always dedicated to the task, perceptive of our needs and conscious of our budget… and he delivers.

– Executive, Financial Services

I have used Bruce's services many times and have always found his work first class.

He has helped us get results.

He always delivers what he commits to.

– Senior VP, Major North American University
ReWerx only retains associates with the highest levels of competence, experience and credentials to provide superior client related services. Equally important is each consultant's service ethic.

Our team:

ReWerx is based on a set of close, lasting professional partnerships. Partners have diverse skills and complementary styles. We are able to scale our project work to appropriately reflect the situation and unique needs of each project. This has enabled us to seamlessly manage complex projects from coast to coast, as we bring the most appropriate mix of partners to the task.

Bruce Gillespie, the Principal of ReWerx, has more than twenty-five years of hands-on business experience in managing organization development and transition -- assisting clients to develop competitive advantage through people and strategies. His expertise in strategy formation, planning and implementation, process facilitation, organization design and redesign, and managing complex organization change provides a valuable resource to ReWerx's clients.

Bruce has a specialized degree in Business Administration. He has been involved in the process leadership of breakthrough team building and problem solving processes that have reshaped commerce, community relationships and government policy. Bruce has developed a strong reputation for his consulting expertise in areas of organization transformation, strategy formation and its implementation, stakeholder consultation, productivity improvement and employee engagement. Bruce has been the key architect of start-up organizations within North America. He has lectured in Canada and the United States on issues of stakeholder involvement, competitive position, organization change and restructuring.

Bruce was previously Managing Partner and co-owner of Right Management Consultants in Western Canada. Right is one of the largest firms of its kind in the world specializing in human resources, organization change and planning. Within this network of over 100 international offices, he chaired the organization's Management Committee, and was a resource to other offices in the development and introduction of specialized areas of organization and human resource consulting. In 1993, Bruce created ReWerx in order to focus his efforts on assisting clients in the areas of sustainable organization improvement, competitive positioning and managing complex change.

Our Associates

Patricia Gibb, Senior Associate, has extensive business experience with a focus on implementing human resources strategies that support organizational capacity to achieve business results. With more than 20 years of consulting expertise, she has built a strong reputation for developing and implementing approaches that support long-term vision and goals, and maximize organization performance and competitiveness. Her work focuses on building organization capacity and capability through strategic workforce planning that allows flexibility to respond to changing internal and external environments; talent management strategies; and development of organization cultures that align with business strategy. She has applied competency-based approaches to organization design, workforce planning/succession planning, performance management systems, and individual coaching. Her expertise has been sought by multiple organizations across a wide variety of public and private sectors including all levels of government, educational institutions, health care, technology, and the services industry.

Patricia's background includes a positive track record of leading and managing human resource and business management functions in a broad range of organizations in Canada, Australia and England.

She has held positions to the level of vice president and actively participated in determining organization strategy.

In addition to an M.A. (University of Edinburgh), Patricia holds a Management Diploma from Simon Fraser University, and a Certificate in Conflict Resolution from the Justice Institute of BC.

Duncan Gillespie, Associate, has spent the past 7 years earning international experience in strategic human resource management. He specializes in helping organizations improve planning, implementation and organizational performance through effective change management practices. His work helps to ensure strategic plans realize their potential benefit through comprehensive planning and flawless implementation of necessary changes to people, processes and technology. He has worked on some of the most significant business transformation initiatives within the financial services sector across Canada and Australia.

Duncan is accredited in Prosci Change Management methodology, and has experience working with both the Accenture and Deloitte Change Management methodologies. He has extensive international experience in the design, development, delivery and evaluation of in-house change management and training capability. Duncan has led Change Management teams to successfully implement large-scale shifts in corporate strategy, with emphasis on employee engagement and customer experience. He also has experience leading training initiatives for large systems and process changes with capital budgets of $600,000,000.

Duncan has a background in change management, organization development and organizational training. He has a Business Administration Degree from the University of Western Ontario with a specialty in organization behaviour and psychology.

Dr. Cheryl Stenström, Senior Associate, is based in the Lower Mainland and has been involved with the library sector since 1993, and is an internationally-recognized expert on Canadian public libraries. She has developed a deep understanding of their organizational structures, governance and cultures through a combination of experience and research and is well known throughout the Canadian library community for her consulting and committee work. She has developed departmental and product-specific services as well as led local, regional and provincial organizations.

Cheryl's experience includes consulting with a variety of public libraries. She led a leadership team from rural public libraries through a transition to a federation as well as through an exploratory process for acquired a shared integrated library system.

Cheryl developed a province-wide plan for small libraries to create virtual library spaces, and recently she assessed the training needs for public library staff across British Columbia and Southern Ontario. This resulted in the recommendation and implementation of comprehensive training strategies. As a public library CEO, she led a regional library system through a strategic planning process that generated significant increases in library membership and use.

Cheryl has taken on front-line and leadership roles in rural and urban libraries, including Fraser Valley Regional Library, Surrey Public Library, and South Short Regional Library. She has been a government and independent consultant to many library organizations, including the IslandLINK and Kootenay Library Federations, the Southern Ontario Library Service, Ontario Library Service North, Libraries and Literacy BC, The British Columbia Library Association, the Canadian Urban Libraries Council, and the Northern Exposure to Leadership Institute.

In addition to holding an MLIS from UBC, Cheryl is a graduate of the San José/QUT Gateway PHD program. She is currently a full-time lecturer in the School of Information at San José State University.

Jeff Shulz, Senior Associate, is a senior executive and marketing professional with over 30 years of experience. During his career, Jeff has worked on some of the most well-known brands in BC and the country. Jeff was actively involved for many years with BC's Children's Hospital; where he created and launched Jeans Day. He was joined the board of Governors of the Vancouver Playhouse Theatre company in 2006 and was Chair from 2009 -2012. Jeff is the Vice Chair and incoming Chair of the Board of Governors for the Vancouver International Wine Festival.

Jeff joined ICBC in 2006 as Vice President, Strategic Marketing, where he was responsible for all brand and marketing initiatives. He was appointed to the Executive Committee in 2009 and in 2011 was made Chief Customer and Marketing Officer. Jeff has held VP Marketing positions with Future Shop and VanCity and was Director, Lottery Marketing with the British Columbia Lottery Corporation. He also has over nine years of experience as the Director, Response Marketing, and Account Director at the agency, Bryant, Fulton & Shee, where his business development efforts helped the agency grow from fourth to second largest in BC. Previous senior marketing roles with Royal Trust and Hewlett-Packard Canada round out Jeff's background.

Jeff has a Diploma in Business Administration from Wilfred Laurier University, a Building and Leading Customer Centric Organizations Certificate from Harvard Business School and completed the Services Marketing Institute Certificate Program from Arizona State University.

Linda Barry, Senior Associate, draws on a wealth of accounting, auditing and related financial experience from over twenty-five years in public accounting to contribute her expertise to the financial aspects of any project. Victoria base, she has provided valuable assistance in the way of business planning, financial management and objective analysis in addition to the standard range of services in areas of accounting and taxation to individuals, businesses, societies and non-profit organizations. Her varied experience and pursuits reflect the ability to readily engage in new endeavours. As a hands on accountant, she assists clients in all aspects of financial accounting, as well as defining and implementing policies and procedures and practical solutions.

Linda's background has been primarily in public practice accounting; she holds a CPA, CGA designation, has been a business owner and partner in public practice for many years, and a tax manager for PriceWaterhouse Coopers.

Rob Abbott, Senior Associate, and Principal of Abbott Strategies is a strategy and sustainability specialist who is recognized nationally for his solutions to organizational challenges. Rob is based in Victoria. In particular, Rob helps organizations create scenarios to better understand how environmental, social, cultural and financial forces influence their strategic choices. This, in turn, drives the creation of strategies with both "core" and "contingent" features. Core features will convey organizational benefit under any set of operational and competitive conditions; contingent features are implemented only when a particular condition (or set of conditions) emerges.

Over the past 20 years Rob has helped to guide many of the companies and organizations throughout Canada and internationally who defined what might be called sustainability 1.0 – the first generation of sustainability thinking and work (City of Vancouver, City of Seattle, Starbucks, NIKE, VanCity, BC Hydro, others). This was a natural extension of his doctoral research and management consulting focus on "future proofing" both for-profit and not-for-profit organizations. A key feature of Rob's work – with business, government, NGOs and academia – is his ability to bridge the gap between strategy creation and effective strategy implementation. He works with his clients to identify and engage key internal and external stakeholders in the strategy creation process to build understanding and ownership. He also helps his clients focus increasingly scarce resources where they will have the greatest organizational benefit, measure the results to confirm benefits, and refine the strategy as necessary in real-time. This approach drives real performance improvement, builds trust capital among key stakeholders, and enhances organizational reputation.

Underlying Rob's attitude and approach to everything he does is his abiding interest in values, passion, innovation, adaptation, and organizational ideology – and the way these are forged, tested and implemented by the people and organizations with whom he works.

At other points in his career, Rob has served as Practice Leader in two of the world's largest and most respected management consulting firms – Deloitte and Touche and Coopers & Lybrand (now PriceWaterhouseCoopers). He has also served as CEO of one of Canada's Networks of Centres of Excellence.

Janice Irwin, Senior Associate, and Principal of Equinox Consulting, is a Certified Management Accountant and experienced municipal government Finance Manager with over twenty years' experience in senior municipal positions. She has worked in both a smaller municipality (City of Chilliwack, BC) and a large municipality (City of North Vancouver, BC), with prior experience in the private sector. Janice recently retired from the City of North Vancouver and now consults in the local government sector. Janice is based in Vancouver.

Finance is Janice's core area of expertise and there are very few finance related topics that she is not very familiar, and comfortable, with. Janice has lead in a senior management role in her municipal positions and has also developed and taught courses in these areas. In the City of North Vancouver Janice was a key staff resource in the implementation of several new business systems and played a key role in business process review and revision of existing processes. Janice continues to develop and deliver programs for the Government Finance Officers Association ("GFOA") of B.C.'s. In 2011 she developed and delivered a Budgeting Webinar for BC Budget and Finance Officers. Janice continues to provide training and program development in the Advanced Budgeting and Long Term Financial Planning area with a new offering fall of 2012. Janice is a skilled presenter and facilitator and enjoys working in a team environment.

In her Local Government positions, Janice's roles included the management of all Finance functions including; Payroll, Budgeting, Accounting, Financial Reporting, Asset Management, Revenue Services, Taxes and Utilities and Investment and Cash Flow Management.

Nancy Gomerich is a Senior Associate of ReWerx, and Principal of NG Consulting. Nancy is a Chartered Accountant and experienced municipal government Finance Officer with over seventeen years' experience in senior municipal positions. She has worked in both a smaller (City of Pitt Meadows, BC) and a larger municipality (City of Port Coquitlam, BC), with prior experience as a municipal auditor in the private sector.

During Nancy's three years in consulting she has worked with many Finance Officers, providing services in the area of financial statement preparation and year-end audit work, budgeting, taxation and extensively respecting the implementation of Public Sector Accounting Board ("PSAB") tangible capital assets and the move to the new financial reporting model.

Nancy also has significant expertise and experience in the areas of strategic planning, business planning and performance measurement. These are topics she is passionate about as she believes quality work in these areas will result in real improvements in government leadership and city services, both in terms of efficiency and effectiveness. She has been significantly involved in, or led the development of, the strategic and business plans and related performance measures in her previous senior local government positions. Nancy is a skilled presenter and facilitator and enjoys the excitement of working with organizations to develop/update these fundamental plans.

Scott Borland, B.Sc., M.Ed. (Adult Education), CHRP, CMC is president of CYGNUS Management Consultants Inc. and a Senior Associate at ReWerx. Scott brings to the consulting team over 25 years of experience in management, human resources development and organizational effectiveness. His practical experience in a number of industry sectors has afforded him an appreciation for the unique challenges facing organizations. Specializing in organization development, Scott has provided consulting services and training to clients ranging from Fortune 500 firms to large public sector organizations, including extensive experience working with health care organizations. In addition to his external consulting experience, Scott has worked as a top executive at Canada's largest foundation and as a senior internal business consultant at a major utility.

Scott has worked with numerous organizations in the development and application of competencies to support strategic direction, enhance business outcomes and improve organizational performance. Using a variety of approaches and techniques, Scott works with clients to identify, define and apply competency-based tools as the foundation for various organizational initiatives. Typical applications include training and development, succession planning, recruitment and selection, performance management and compensation.

In addition to consulting initiatives, Scott regularly facilitates workshops on competency-based approaches to performance improvement.

Charlotte Young, Senior Associate, has over twenty-five years experience in promoting sound organizational and public policy solutions by involving the public and stakeholders in decisions and improving how governments and non-governmental organizations operate.

In her work both as a facilitator and evaluator she has been involved with diverse projects. She led the design and facilitation for: pan-Canadian research workshop on sustainable harvesting of biomass; Toronto's Bio-solids strategy; stakeholder initiatives to develop the Fifth National Forest Strategy for Canada; and, Ontario's first strategic plan for environmental education.

She has also been involved in numerous other strategic initiatives, including: Ontario's biodiversity strategy, premier's summit on agri-food, and Niagara Region's water strategy. In addition to designing and leading the implementation of multi-stakeholder processes, she has designed and led training on facilitation, strategic planning, conflict management and program evaluation.

Charlotte holds a Ph.D. in environmental psychology from The University of Michigan. She is a certified mediator and facilitator.

Iain Snee, ReWerx Senior Associate and proprietor of Iain Snee & Associates (www.iainsnee.com), is a change management professional with over fifteen years of results in bridging knowledge and business opportunities. His diverse experience and capabilities bring a unique perspective to any situation that encourages insights and actions. Iain held senior management positions in the high technology manufacturing industry due to a business plan written during his Bachelor of Commerce degree. He launched and turned around companies while developing new business processes for contract manufacturers in the industrial environment.

His consulting business focused on training manufacturers to implement automated scheduling through the operating procedures and policies he designed and successfully deployed. For example, a precision optics manufacturer doubled their sales after attending one of Iain's seminars. In other cases, his consulting supported broader goals. For example, a wire manufacturer with $20 million annual sales utilized his expertise as part of a business process re-implementation project that generated $1 million in annual cost savings and prepared the firm for a successful merger. Alternatively, some firms find reviewing core business processes highlights other issues to address. For example, one family owned precision stamping firm faced succession challenges and Iain temporarily covered the general management role to maintain momentum and help the family resolve the issue promptly.

Iain has the experience and capability to comfortably bridge the unique interests of individuals and organizations within the business and political sectors to generate business opportunities. His change management skills focus on organizational startup, turnaround, and growth through management and technology effectiveness.

Craig Knight, Senior Associate, is an independent policy consultant, facilitator and strategic planner. He has more than 20 years of experience in the British Columbia Ministry of Health as a strategic planner, negotiator and policy advisor. He is a retired Assistant Deputy Minister of Health Services where he was responsible for legislation, corporate policy, research, intergovernmental relations and professional regulation.

During his career with the British Columbia public service he led initiatives to improve health human resource planning, the expansion of post-secondary seats in a variety of medical professions, strategy for the 2004 national health accord, consultations for a national Aboriginal health plan, updating of health legislation and the introduction of new health acts to improve and reform health care delivery and the implementation of recommendations arising from the 2006 Conversation on Health. He also served as a business analyst with Strategic Management Services. He was instrumental in facilitating a national consultation to provide Ministers of Health with recommendations to improve the delivery of organ and tissue donation and transplantation services for Canada and a process for assessing entry to practice credentials for health professions. He collaborated with British Columbia regulated health professions on the implementation of provisions in the Agreement on Internal Trade.

Craig holds a BA in psychology from Valparaiso University and a Masters of Divinity from Christ Seminary in the United States.

Larry Straith, Senior Associate and proprietor of Straith & Associates, is a financial expert with over twenty years of professional and business experience. As a founding partner of a chartered accountancy and consulting firm, and as director and officer of various business interests, he has served clients and provided management services at all stages of corporate development. Industries include resource development, retail, construction, manufacturing, franchise, financial, real estate and professional organizations.

His consulting role includes financial planning and development (i.e., financial reviews and analysis, business modelling and forecasts, merger and acquisition or divestiture planning, and financial restructuring and sourcing), business planning and development (i.e., business assessment, operations audits and re-engineering, and business plan development and implementation), information systems (i.e., requirements and value analysis, business operations and financial reporting, performance and benchmarking systems, and administrative and support systems).

Larry is committed to Client success by offering a dynamic contribution throughout each assignment and providing the highest standards of professional service. This includes working closely with a Client's advisory team to facilitate change and improvement in concert with management initiatives. His approach delivers practical and integrated solutions, timely service and performance accountability. The focus is to identify and achieve the best value result for each unique business situation. Efficient support facilities and a modular service approach to enable reasonable fee arrangements tailored for each engagement.

André Guitard , Associate, and the president of CAG Consultation (Hawkesbury, ON). He is fully bilingual and a native of the National Capital Region.

H

e offers consulting services in organizational management, project management and training. He is a professional coach specialized in executive coaching. He is an experienced bilingual facilitator.

In the last two years, he assisted the Consultative Steering Committee of Fisheries and Oceans Canada: Aquaculture Management Directorate in preparing a multi-phased consultation plan as well as the design of regional and national consultation workshops in support of the development of an aquaculture renewal strategy. He assisted the Canadian Association of Paediatric Health Centres in the development of a national resource of best practices in the enhancement of continuity of care with complex health care needs.

André graduated from the University of Ottawa with a Masters degree in Counselling and received his coaching training from the Adlerian School of Professional Coaching in Toronto.

Tim Dillon, Senior Associate, has over 30 years in the compensation field, working in all facets of total compensation. His experience includes over 18 years with a major international consulting firm (Watson Wyatt Worldwide) where he was a senior compensation consultant, practising in strategic total compensation design for organizations in both the public and private sector. His work involved developing and implementing compensation strategies for a broad, cross section of employee groups including: executive, management and professional, technical, and unionized staff. Prior to his consulting experience, Tim was Manager Compensation for a large financial organization. He started his compensation career with the federal government at the Pay Research Bureau, Public Service Staff Relations Board.

Tim established his own company in November 2005 and currently works with clients in both private and public sectors. He provides compensation advice in the areas of total executive remuneration, general salary administration, market pricing and job evaluation, performance management, and incentive/variable pay design. Based on his diverse experience, Tim works with a large network of independent compensation professionals, providing timely, cost effective, and strategically focused compensation advice.

Tim is a graduate of Carleton University and has served on the Montreal, Toronto, and Vancouver Compensation Groups. He has also served on the Canadian Board of World at Work (formerly Canadian Compensation Association).

Dave Hardy, Senior Associate, has an extensive social science background and has researched and provided expert testimony and/or peer advice about socio-economic impacts and land use for a range of clients. He has completed socio-economic impact assessment studies of land developments, airport expansions, waste management facilities, community monitoring and compensation programs, 3-R's programs, energy facilities, transportation facilities and a variety of other projects and programs. He has written extensively on his research findings, lectured in universities and given professional papers in Canada and the United States. He currently publishes the Social and Environmental Assessment Bulletin.

A Registered Professional Planner for over 20 years, Dave has developed a wide reputation for understanding and addressing the social, economic and cultural aspects of planning exercises. He has provided expert testimony on social/cultural and land use matters before the Federal Environmental Assessment Review Panel, the Ontario Court of Appeal, the Environmental Assessment Board, the Ontario Municipal Board and the Ontario Energy Board.

David Verlee, Associate, has over 12 years experience in business improvement processes and market research in North America, Asia and Europe. David has a Bachelor in Economic Geography and a postgraduate diploma in business.

In 1998, David became the Vice President (IT) of RLG International – a 150+ employee, Vancouver based management-consulting firm. Focusing on Fortune 500 companies, David and his technical team created and implemented a web based balanced scorecard. David managed client implementation of the RLG Balanced Scorecard included Shell Europe, British Petroleum, and Amerada Hess. During this process, David also became a regular speaker at numerous local organizations (BCTIA, BC Quality Council, etc.) on the subject of Balanced Scorecard.

Prior to his experience with RLG International, the Observer of London and USA Today commissioned David's experience and knowledge for business reports on the Technology, Finance, and Transportation sectors in both India and the Philippines.

Kyle Guilfoyle, Associate, Kyle holds a Bachelor of Music from McGill University and a Master of Music from the University of Toronto where he was supported by two fellowships and a scholarship. He has also initiated training toward the Chartered Professional Accountant designation and has studied finance through the Rotman School of Management in Toronto. Through the study and performance of historical music, Kyle has conducted extensive research on performance practice before 1850. In September 2017, Kyle will be starting a Master of Business Administration degree at the University of Victoria's Gustavson School of Business.

In addition to his performance career, Kyle has over a decade of experience consulting to, and management of, public focused service organizations including helping to streamline operations and enrich communication between hospitality professionals and guests.

George McLeod, Associate, is a Chartered Accountant who has amassed twenty-five years of hands-on, senior management experience over the full spectrum of the information technology industry. His strategic oversight of significant ventures has bridged both regulated and unregulated environments

Demonstrated strengths include; strategic planning and business process engineering, project management, marketing, contract negotiations, problem solving, finance, and administration.

An extremely results-oriented individual, George has proven himself an enthusiastic self-starter who has clearly mastered all aspects of supply chain management. His resume reflects his total immersion in all phases of significant systems development life cycles.